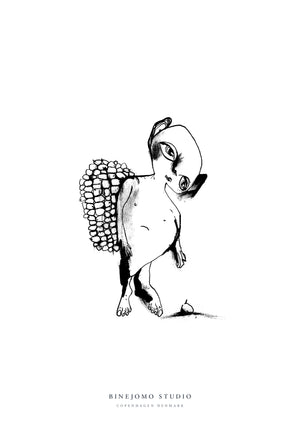 Pota Finur
Sale price Price 55,20 kr Regular price Unit price / per
Pota Finur
The Finur represent the weird elements that we humans often processes, but which no one really shows. It is the funny, crazy, deformed parts of the human body, mind and nature. Like when you discover that; your feet are not going the way you want them to, a friend has two toes thats grown together, another friend is a national champion in Can-Can, that you are not always the femme fatale you thought you were last night. Others are about being a human in modern life, that you need to be able to juggle many things in one time, and that task would be so much easier, if you had multiple arms. Finur is about that living life sometimes is like working in a circus, others are about being different. But all of the illustrations are about that we still need to stick together, to use humor and love to enjoy that we are not alike. All of these funny weird and quirky parts of life I love to discover, either in myself or in the world around me. 
Even if you have a lot of people, experience or things. you need to keep discovering new things throughout life, to keep seeking new experiences and not think that new knowledge is only for young ones.  
All the Finur illustrations are high quality digital printed Illustrations. The original illustration are made with original Chinese ink, which has a very deep black sense to it.160 g ClaireFontaine paper. Size 21,0 cm x 29,7 cm. Shipped in a protective envelope.
Have any questions - please feel free to contact me! 
Best regards from BineJoMo